Good morning focus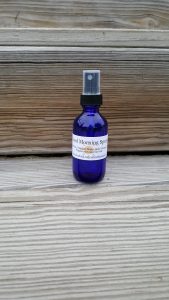 I had a workshop a few weeks ago on back-to-school blends. One of the blends I made was a Good Morning Spray.
But in looking at different blends under the theme of back-to-school I found A LOT of different spray, diffuser, and roller blends that I could make and use.
Three of my children returned to public school this past week. To help us stay on task getting ready in the morning I diffused a new blend that I'm calling Good Morning Focus. Pictured to the right is the Good Morning spray I made.
Good Morning Spray
5 drops Peppermint Essential Oil
5 drops Wild Orange Essential Oil
distilled water
2 oz glass spray bottle
Good Morning Focus Diffuser Blend
2 drops Peppermint Essential Oil
2 drops Wild Orange Essential Oil
2 drops Rosemary Essential Oil