Wild Orange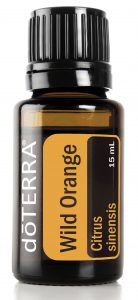 This week I'm talking about Wild Orange during a doTerra info call. I've been thinking of the different ways I use Wild Orange and the benefits of it. It's a pretty versatile oil.
Benefits of Wild Orange
Similar to On Guard, Wild Orange can protect against seasonal and environmental threats. Indian Summer has arrived in New Hampshire, but colds and allergies have been around for a few weeks now. Wild Orange contains antioxidants which help contribute to our overall health. It also can be used for cleaning and purifying. My favorite benefit is that Wild Orange is uplifting and energizing for your mind and mood.
How I use Wild Orange
My favorite use is in my diffuser. I diffuse Wild Orange with Peppermint and Rosemary to help keep me focused and on task during the day. I also diffuse Wild Orange in my van. It aids on long rides when the kids can get antsy in the back seats, helps keep the van fresh, and supports my focus while driving.
You can also use a drop of Wild Orange and drop of Peppermint on your hands and rub together. Inhale and/or rub on the back of your neck to support focus and energy levels. Wild orange is also safe to use internally. You can add a drop to your water or include it in recipes.